Watermelon
Drooling with sweetness. Rich with color. A fresh cut watermelon communicates a hydrating sense of summer to all. From Memorial Day to the 4th of July or even a lazy, breezy afternoon in the back yard, watermelon resonates all things summer. Watermelon comes in a variety of shapes and sizes, and is actually considered one of the most nutritious fresh produce items you can buy.
We grow Red Seedless, the traditional Red Seeded, Red Mini Seedless and beautiful Yellow Seedless watermelon.
Here's some fun feedback from local Chef, Brandon Velie:
"As a Chef who utilizes as much SC Grown products into his menu, I always get very excited when Coosaw Farms products are available. I am a huge fan of their watermelons and blueberries! Coosaw Farms makes my job much easier as a Chef because the produce is already so delicious. I truly can't say enough great stuff you really put out an amazing product. Thanks, Brandon"
Brandon Velie is the Owner and Chef of Juniper Restaurant in Ridge Spring, South Carolina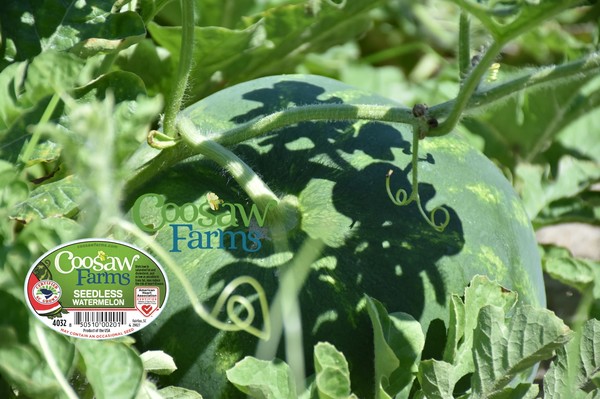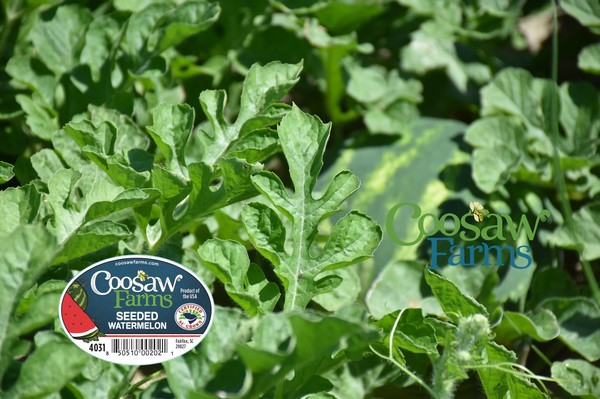 eBites
"Just a note to say this is my 6th Watermelon this year that you have grown for me and they have been wonderful! Thank you so very much for your dedication to farming ..."  Lynda wrote us July 6, 2017
"Hello, Just bought one of your seedless watermelons today and it was delicious!!!!!" Eddie emailed us from Jacksonville, NC on June 3, 2015
"I just had to email you guys and let you know that your watermelon is absolutely delicious! I honestly didn't expect a good tasting watermelon since it wasn't from the farmers market. I literally just cut the watermelon and tasted it. It is so sweet and taste sooo good.  I grew up on a farm and I can tell the difference in produce. Coosaw Farms is the Real Deal! I hope I can find more of your produce." Candace emailed us on June 2, 2015
"Delicious watermelon keep them coming." David emailed us May 18, 2015 from Newtown, CT
"As always, Coosaw Farms' watermelons did not disappoint. The perfect sweet treat for our 4th of July celebration! Thanks, Coosaw Farms!" Meg emailed us on July 5, 2014 from Greenville, SC
"Hi! Just wanted to say that your watermelons are the best I've ever had... seriously! I can always tell the difference between yours & others. Keep up the sweetness! ;-) " Alicia emailed us on June 17, 2014 from Stone Mountain, GA
"I have purchased your watermelons the last couple of years, I actually kept the tag off the watermelon to be able to remember where they came from because they were so good. Your watermelons are delicious." Linda emailed us on May 30, 2013 from Coon Rapids, Minnesota
"I am not usually surprised by watermelon. But thank you because you did it. Again thank you for your wonderful watermelons." Tay emailed us on May 26, 2013 from Charleston, SC
All Excellent ratings received in Appearance, Freshness, Taste, and Overall Satisfaction from HarvestMark Survey Response received July 11, 2011 from Hoschton, GA
All Excellent ratings received in Appearance, Freshness, Taste, and Overall Satisfaction from HarvestMark Survey Response received June 27, 2011 from Gainsville, VA
All Excellent ratings received in Appearance, Freshness, Taste, and Overall Satisfaction from HarvestMark Survey Response received June 27, 2011 from Lawrenceville, NJ
All Excellent ratings received in Appearance, Freshness, Taste, and Overall Satisfaction from HarvestMark Survey Response received June 27, 2011 from Raleigh, NC
"OMG..your watermelon are the BEST. Thanks for the GREAT Watermelon!!!!!!!!"
Jodi emailed us from Concord, NC July 6, 2010
"I just (sadly) finished the tastiest, sweetest, most juicy watermelon I have ever had courtesy of your farm. It was so good and so refreshing that I felt I had to write you and commend you. It was a large red seedless and as crisp and fresh as you could hope for. I intend to look for Coosaw Farms on all my produce from now on. Keep up the good work!"
The Stafford family emailed us from Gaithersburg, MD July 2, 2010
"I had the opportunity to taste your watermelons and thought they were delicious. thank you!"
Helen emailed us on July 1, 2010
"This is a thank-you note. In the last couple of years, I have purchased "too many" watermelons that were "blah!" This season, I am most likely most responsible for the watermelon inventory at my Chantilly, VA store being "turned!" Your melons have been consistently wonderful! Thank you for whatever you do to them!!"
Marge emailed us on June 30, 2010
"Dear Coosaw Farms, just want you to know that I recently purchased one of your watermelons and it was sooooo good. So difficult to find a sweet watermelon anymore, but I thoroughly enjoyed yours after coming home from a hot day in the sun. As I can't remember where I purchased it, I was hoping you could tell me who carries your produce. It is quite unusual for me to save a produce sticker so that I can find more of the same, but I did with this."
Sharon emailed us on June 25, 2010
"Dear Coosaw Farms; three days ago I purchased two of your watermelons. They were THE SWEETEST, JUICIEST, most SUCCULENT watermelons I have ever had! I am addicted to them! I don't know how you do it, but you produce awesome fruit. They were so good in fact, that I called all my family and friends to tell them to go buy some too. So please, keep 'em comin'!
Thanks again, from the bottom of my bloated, watermelon filled belly!"
Terry, emailed us on June 7, 2010
"Hello! Yesterday I purchased a Coosaw Farms Red Seedless Watermelon. I was delighted once I tasted it! Sweet and delicious. Thanks for being here!"
Jessica from Charleston, SC emailed us on May 28, 2010
"My family picked up one of your seedless watermelons this past weekend. Everyone one loved it, it was delicious. Seedless is the way to go with 4 kids under 6 years old! Thanks! "
David from Richmond, Virginia emailed us on May 26, 2009
"We picked up a watermelon today and I have to say one of the juiciest, yummiest I've ever had. Thanks a bunch!"
Dave from Vermont emailed us on July 20, 2008
"Had a dinner party earlier. Bought 4 of your watermelons to serve as a fresh dessert. Let me tell you something about your product...I got all thumbs up!!!! :-) :-) :-)"
Tamara from Hedgesville, West Virginia emailed us on July 14, 2008
"I purchased one of your seedless watermelons yesterday. I just wanted to tell you that it is outstanding and I will probably go back and purchase another before the weekend is over. Have a great Fourth of July!!!!!"
Donna from Selbyville, Delaware emailed us on July 4, 2008
"Hi. Had my first Coosaw watermelon yesterday. It was the best I've ever eaten and I'm 77 years old."
Robert from Hendersonville, North Carolina emailed us on July 2, 2008
"I bought a RED SEEDLESS. It was very good. Thank you for all you do."
Dan from Eglin AFB, Florida emailed us on July 2, 2008
"Dear Coosaw Farms, I've got to tell you that beyond a shadow of a doubt your seedless watermelons have got the best taste over any others that I have tried. I do not know how you can produce such a great product, but don't stop."
Tom from Chattanooga, Tennessee emailed us on June 25, 2008
"Just have to tell you that your watermelon helped make our 4th of July a grand celebration. The melons were at their peak with the sweetest and juiciest flesh ever. Thank you very much for providing such fine produce."
Bob emailed us from Wilmington, North Carolina on July 9, 2007
"Just cut up one of Coosaw's red seedless watermelons, that I purchased yesterday. IT IS DELICIOUS!!!! Sweet and juicy. Thank you for dedicating your energies and being totally committed to growing the best produce possible. Thanks again!!!"
Jim emailed us from Bradenton, Florida on July 6, 2007
"Yesterday I bought my first Watermelon. I got the Red seedless one. Thought I would try my first piece ever. What a wonderful fruit I have been missing all these years. By the way I am 74. Now I'm hooked on your Watermelons. "
Rhoda emailed us on May 29, 2007
"I recently purchased one of your Red Seedless Watermelons. It was simply DELICIOUS!"
Gary from Glen Burnie, Maryland emailed us on June 26, 2006
"I just had to take the time to find out about who grew the best watermelon I have had all year! Thank you for the juiciest, most flavorful watermelon I had the pleasure of eating in October!! Your biggest fan."
Dianne from Flint, Michigan emailed us on October 25, 2005
"I just want you to know how much I am enjoying your red seedless mini watermelons. They are the best and sweetest watermelons I have ever tasted."
Mrs. Hayes from Virginia Beach, Virginia emailed us on October 14, 2005