Blueberries
We look forward to blueberry season all year. There's nothing better than being able to indulge in the crops you grow! Our blueberry varieties are a select collection of the most modern and flavorful Southern Highbush. Meticulous care goes into our plant health, watering, and nutrient management to produce premier berries. Each Coosaw Farms blueberry is carefully hand selected at harvest for its coloring, shape, ripeness, and quality. We encourage you to taste and see the 'Coosaw' difference! There truly is one.
Here's some fun feedback from local Chef, Brandon Velie:
"As a Chef who utilizes as much SC Grown products into his menu, I always get very excited when Coosaw Farms products are available. I am a huge fan of their watermelons and blueberries! Coosaw Farms makes my job much easier as a Chef because the produce is already so delicious. I truly can't say enough great stuff you really put out an amazing product. Thanks, Brandon"
Brandon Velie is the Owner and Chef of Juniper Restaurant in Ridge Spring, South Carolina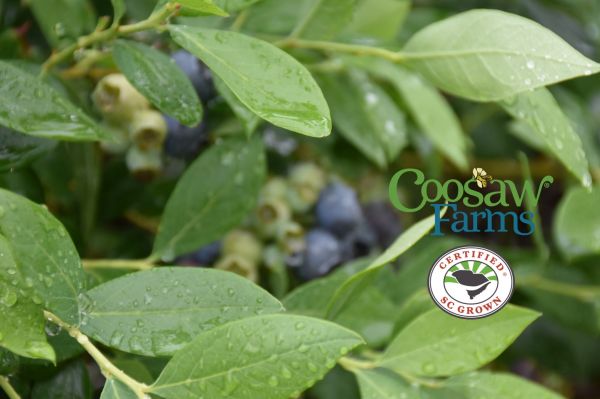 eBites
"Just wanted to share with you that I enjoyed your beautiful blueberries for breakfast this morning." Sandra emailed us May 1, 2017 from Anderson, South Carolina
"I just wanted to compliment you on the exceptional quality, size, and flavor of your blueberries and the fact they are grown here in South Carolina makes them even better.  My wife and I could not get enough when our local store in Beaufort had them on the shelves several months back.  We're already looking forward to next year's batch." Josh emailed us July 26, 2016
"I just wanted to write and tell you how much my family and I love your blueberries!  I picked some up in Columbia and my daughter ate the entire container. Just wanted to pass along my thanks!"  BethAnn emailed us on June 15, 2016
"My Georgia store (Hickory Flat location) began carrying your Blueberries this year (I am a regular blueberry buyer and this is the first year I have noticed your brand in stock). Looking over your collection of testimonials, I second all of the praise! Best tasting, best consistency, longest lasting, love the color variation – just like nature intended, and perfect size. Terrific product, keep up the great work! How can I obtain your watermelons?"  Doug emailed us on June 13, 2016
 "Your blueberries are the best and I always look for them in the store. Many thanks."  Nancy emailed us June 12, 2016
 " I purchased your blueberries for the first time at our local grocery store. They were delicious, firm, plump, sweet and clean. I hope they continue to carry your blueberries so we can enjoy them throughout the season. They are some of the best blueberries I have tasted in long time! Thank you, "  Mary emailed us June 2, 2016 from Jupiter, Florida
 "I bought your berries and there was quite a big difference.  Thanks for the larger, sweeter blueberries." Darlene emailed us May 30, 2016
"I am writing to say what an annual joy it is when I find Coosaw Farms blueberries in my grocery store! 
They are the most beautiful, freshest, most perfectly ripe and most delicious berries I have ever had the honor and pleasure to eat.  At my age of 73, I have seen, tasted and eaten A LOT of blueberries in my life: when I learned many years ago how important they are to one's health and well-being, I became a dedicated consumer year-round.  But somehow Coosaw Farms blueberries never fail to be the very best of all.  I now go looking for your fruits in season, focused on and dedicated to Coosaw Farms.
You all should take a great deal of credit for and pride in every single berry, and for everything you grow: for planting the best bushes in the best location and soil, for giving them the best care and attention, for picking them very carefully and at the perfect time, and then for seeing them safely transported to your appreciative customers.  Your dedication to the best farming shows in what you send us.
Thank you for what you give us every year.  It is a wonderful annual gift that I treasure, appreciate and enjoy."
 Alys emailed us May 23, 2016 from Mount Pleasant, South Carolina (what an honor this was to receive)
"I wanted to let you know that we found Coosaw Blueberries this week, and we think they are the finest early blueberries we have ever enjoyed. I am returning today to let them know the great quality and to encourage them to continue and expand their purchases of your products.  I've bookmarked your web page and will be looking out for your brand.  Thank you. We like to know the source of our food, and are pleased to invite you to our table! "  Ann emailed us May 21, 2016 from Decatur, Georgia
"Tonight I made one of the wisest purchases I have made in a very long time.  I bought three of your pint containers of the best blueberries ever.  Every one is great tasting; no spoilage. no green.  Do hope I can continue getting your produce and will let the produce manager know of my satisfaction.  Maybe it has a little something to do with SC soil - I lived near Florence for some years."  Billie emailed us May 19, 2016
"Hi. I purchase blueberries when our 15 bushes are not in season. Yesterday, I purchased yours. When I saw they were from SC, I had to get them. And I am so glad I did. They are WONDERFUL!"  Nicole emailed us May 5, 2016 from Brooks, Georgia
"I just wanted you to know I bought your blueberries and they were the best blueberries I have ever eaten in my entire life." Josephine wrote us on June 6, 2015
"I would never usually write to a grower of a product but your blueberries had such a wonderful taste I looked on the label where they came from. From now on I will look for your products." Joan emailed us from Palm Coast, Florida on June 3, 2015
"My Mt. Dora store carried your blueberries for the first time this year and they are by far the best I have ever eaten. They were so big, ripe, and sweet. Furthermore the berries were also very clean and not a one was bruised or had their stems attached. I picked out all your brand (bought 23 boxes) and washed and froze for future use in smoothies, baking, and cereal toppings. I sure hope they continue getting your Coosaw Farm berries, not only this year but for years to come." Jean emailed us from Eustis, FL on May 31, 2015 
"I eat blueberries every day!  I just had my first pint from Coosaw Farms, they were excellent!!  Plump, juicy & sweet…" Ginger emailed us on May 28, 2015 from Albany, GA
"This is just to say your blueberries are so plump and delicious, I have eaten the whole carton leaving none for my family!! Thank you for growing such a great blueberry!" Karen emailed us on May 26, 2015 from West Palm Beach, FL
"Just had some of your blueberries and they were delicious." Frank emailed us on May 25, 2015 from the upstate of South Carolina
"Please know how pleased I am to have found your blueberries in my local grocery.  First I saw, "product of USA" and then "Coosaw Farms, Fairfax SC;" it simply made my day. And they are as plump and tasty as any I have ever eaten! Keep up the good growing." Rose Mary emailed us on May 25, 2015
"Enjoying your wonderful blueberries for dessert this evening. Whenever I find good produce I always notify my friends.  We believe in the very best.  Tomorrow it's blueberries and French toast for breakfast.  Yummy." Jean emailed us June 2, 2013 from Chesapeake, Virginia
"Your blueberries are so good that I looked up your farm just to say thank you. I have bought many pints.  Keep 'em coming!!!" Tom emailed June 2, 2013 from NC
" . . . made blueberry pancakes on this fine Sunday morning. We used Coosaw Farms blueberries. They were de-lic-ious. We saw the Coosaw difference. Keep up the good work." Brad emailed us on June 2, 2013 from Jacksonville, FL
"I purchased a pint of blueberries three days ago. By last night we had not only eaten the entire pint but had returned to the store for another pint. They are perfect. I will be on the lookout for other products. Thank you for such a delightful tart firm berry. Many blessings to you and your farm!" Loyce emailed us on May 25, 2013 from Spanish Fort, AL
"Have never eaten a more flavorful and delicious blue berry.  Thanks for the good farming.  I will look for your produce in the future." Barbara emailed us on May 24, 2013 from Simpsonville, SC
"I am very interested in eating healthy, fresh and locally grown vegetables and fruits as much as possible and blueberries are about as good as it gets.  Thanks and best of luck to you in having such a worthwhile product."
Bo emailed us on May 16, 2012 from Pine Mountain, GA
"I bought a box of your Blueberries from Sandy Springs. Just wanted you to know that the blueberries are by far the best I've ever had in Atlanta. You just made my breakfast!! Please keep them coming. I will look for your boxes and buy more. Thanks so much!!"
Naomi emailed us on May 10, 2012 from Atlanta, Georgia
"I absolutely look forward to eating blueberries in the Summer and these are excellent to say the least...They're fresh, plump and flavorful and I can't thank you enough for making my summer much more enjoyable."
Comment from HarvestMark.com Survey Response received May 7, 2012 Alpharetta, GA
"This was the best container of blueberries I have had in the last dozen years. (I used to pick and eat them right off the bushes in my dad's orchard.) Every berry in your box was big and ripe and luscious. Thanks for excellent produce like my dad used to grow."
Cricket emailed us from Sylvania, Georgia on May 10, 2011
"Just wanted to let you know that I am in the process of devouring some of your blueberries at this very moment!! They are DELICIOUS!!!! Thank you so much for a quality product! I noticed the email address on the inside lid of the blueberries so wanted to let you know that I appreciate your efforts. Again, thank you!"
Sally emailed us on June 15, 2010
"Just wanted you to know that the blueberries we get taste great. Buying cartons and cartons to freeze. Thanks for all the hard work that goes into a great product..."
Rachel emailed us on June 14, 2010
"Just bought some of your blueberries today! My son loves them and they are so good!!!!! The best I've eaten this season."
Marianne from Pomaria, SC emailed us on May 27, 2010
"For the past week we have enjoyed your exceptional blueberries which we bought in Greenville, SC. They are delicious! And we love that they are SC grown. Please keep up the great work!"
Patti from Simpsonville, SC emailed us on May 23, 2010
"I just wanted to let you know your farm has the best tasting Blueberries I have ever eaten. Thanks for a great product."
Grace from Stuart, FL emailed us on June 16, 2009
"I purchased your blueberries yesterday. They were delicious and I was happy to see that they were grown in SC. Best of luck with your harvests this year. I grew up on a farm and have a soft spot for farmers. :)"
Comment from HarvestMark.com Survey Response received June 4, 2009
"From a customer representing thousands of others at Naval Air Station Commissary Jacksonville Florida. Just a note of appreciation to you for your plump, sweet blueberries. Keep up the good work of sending us your delicious fruit. We know that you work very hard to produce such a product. "
Gerald from Jacksonville, FL emailed us on June 3, 2009
"I wanted to drop a quick note about your wonderful blueberries. I stumbled upon some this past weekend in Columbia, SC. I grabbed up 6 cartons when I realized they were SC grown. We took them home and my daughter and I 'stuffed' ourselves with these beautiful, huge, juicy, sweet fruit. I had no idea Blueberries were in so early in SC and we absolutely loved them. They were the biggest blueberries I have ever seen in my life. Each one was clean, and so sweet! I hope there will be a few more when I return this coming weekend."
Michele from Columbia, SC emailed us on June 1, 2009
"I found some Coosaw Farm's blueberries in Columbia and can honestly say they are the best blueberries I ever purchased from a grocery store. They appeared as the largest and ripest berries that can only signal freshness which can only come from a local supplier. I found them thoroughly enjoyable."
Hugh from Columbia, SC emailed us on June 1, 2009
"Do you have any more blueberries left? Good Blu'ies are hard to get around here and we have to get aggressive when we find them. "
Rachel from Tampa, FL emailed us on May 25, 2009
"Thank you for the lovely blueberries. I have been able to purchase them at several different local Charleston stores. They are perfection! (so plump, clean, and delicious) I cannot imagine all the hard work that goes into growing them. "
Leslee from Charleston, SC emailed us on May 23, 2009
"Just purchased (and ate!) your blueberries. THE BEST!"
Nancy from Greenville, SC emailed us on May 22, 2009
"the best domestically grown blueberries i ever had. slightly tart and juicy."
Bob from Warwick, RI emailed us on May 18, 2009